Stellar Review
for Waiting for Godot!


150 Main Street
P.O. Box 581
Boylston, MA 01505-1928
Phone: 508 869-6887

Coming in December: She Loves Me
Calliope Productions is a year-round non-profit theatre company founded in 1982 that serves the needs and interests of audiences and performers in the Central Massachusetts region. Calliope Productions presents six main-stage productions each year, and operates performance training workshops for students (ages 8 - 18) and adults.
Information on this website is subject to change without notice



Calliope Theatre Address:




150 Main Street

Boylston, MA 01505

Phone: 508 869-6887




Mailing Address:




Calliope Productions, Inc.

P.O. Box 581

Boylston, MA 01505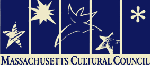 Calliope Productions is a non-profit cultural organization supported by private donations and grants from the Local Cultural Councils of Boylston, Grafton, Hudson, Northboro, Southboro, and Westboro Massachusetts, and by the Massachusetts Cultural Council.