Calliope Pre-Teen Youth Theatre Workshop
*** Registrations Closed ***
Spring 2023
See the adventures of The Claw!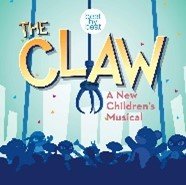 Workshop Director:
Megan Burke
Age Requirement:
Students who are currently in 3rd grade – 12 yrs old
Workshop Dates:
2/4/2023 – 3/25/2023, Saturday mornings, from 9 am to 11 am
Dress rehearsal is on 4/1/2023 at 12 pm
Performances are on 4/1/2023 at 2 pm and 4 pm
ALL PARTICIPANTS MUST BE AVAILABLE FOR ALL PERFORMANCES
Workshop Details:
During the course of this 9-week workshop, students will concentrate on performance-related skills such a diction, voice-projection, singing, stage movement, choreography, and characterization. They will learn about technical and practical aspects of presenting plays as they work towards staging a production.
Workshop Cost:
Tuition total is $175, a non-refundable deposit of $50 is due at time of registration, the balance will be due on the first day of the workshop
Production Team:
Director/Choreography: Megan Burke, Music Director: Devynn Boudreau
The Show:
THE CLAW - a one-act children's musical
ALL WORKSHOPS ARE CONDUCTED AT CALLIOPE'S THEATRE AT 150 MAIN STREET IN BOYLSTON, MA
---