The Last Five Years
a Musical by Jason Robert Brown
This celebrated 2002 award-winning Off-Broadway musical by Jason Robert Brown chronicles the five-year life of a marriage, with one of the brightest and most lyrical musical scores of the 21st century.
The Last Five Years is an intensely personal and emotionally moving look at a relationship told from two individual points of view, using uniquely different perspectives simultaneously: in "forward time" as we follow the story from the man's perspective and in "reverse time" as we view it from the woman's perspective. Calliope invites you to immerse yourself in this powerful musical tour de force.
Performance Dates
Thursday, September 8, 7:30 pm
Friday, September 9, 7:30 pm
Saturday, September 10, 7:30 pm
Sunday, September 11, 2:00 pm
The performances are color-coded:
White = lots of seats available
Yellow = a popular show
Red = few seats left
Black = Sold Out
Tickets are $20 for regular admission, and $17 for students and seniors.
Read the Five Year program. Read it here first! (opens a new window)
The Five Year Review, thanks to METRMag (opens a new window)
Five years in Pictures. (opens a new window)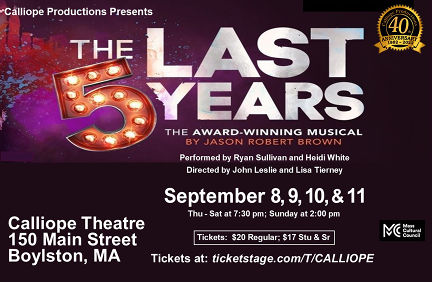 Cast
Ryan Sullivan
Heidi White
---