The 2nd Time Around
a Cabaret with Valerie Sneade-Roy and Jim Rice
After a one-year hiatus due to the COVID shutdown, we are happy to welcome back vocalist Valerie Sneade-Roy and pianist Jim Rice for their 4th annual Calliope appearance, this time in an brand-new show entitled The 2nd Time Around.
Celebrate the new year, and chase away the winter blues, with a highly entertaining revue of Broadway and Hollywood show tunes and popular songs from '50s through the '90s, performed by this talented Worcester-bred duo that has been delighting audiences throughout the Eastern seaboard for the past decade.
NOTE: This production is for one weekend only, with two matinee performances that are sure to be sell-outs, so you are advised to purchase your tickets online as soon as possible.
Performance Dates
Friday, February 11, 7:30 pm
Saturday, February 12, 2:00 pm
Sunday, February 13, 2:00 pm
The performances are color-coded:
White = lots of seats available
Yellow = a popular show
Red = few seats left
Black = Sold Out
Tickets are $20 for regular admission, and $17 for students and seniors.
The Second Time Program (opens a new window)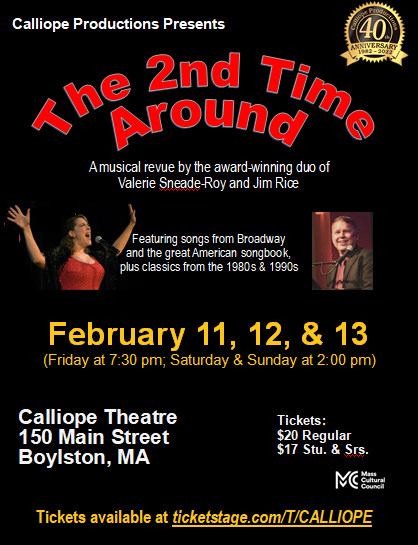 Cast
Valerie Sneade-Roy: Singer
Jim Rice: Singer/Pianist

---