A Tribute to Steve and Eydie
a Cabaret with Valerie Sneade and Jim Rice
Steve Lawrence and Eydie Gorme entranced the world from the 1950s through the 1970s as the superstars of the golden age of nightclub entertainers. Their induction into the Songwriters Hall of Fame capped a partnership filled with multiple Grammy and Emmy Awards, TV specials, and Las Vegas headline appearances, as well as a star on the Hollywood Walk of Fame, and millions of adoring fans worldwide.
In a sensational cabaret show filled with charming stories, witty banter, and powerhouse vocals, Valerie Sneade and Jim Rice recreate the chemistry and magic of the "King and Queen of the Nightclub World" as they perform A Tribute to Steve & Eydie.
Audiences will enjoy highlights from Steve and Eydie's 55-year collaboration in a funny, heartwarming, toe-tapping journey through American popular song - from their memorable rendition of the original Tonight Show theme song, This Could Be the Start of Something Big, through Broadway favorites - in an inspiring and joyful show that captures audiences' hearts.
NOTE: This production is for one weekend only, with two matinee performances that are sure to be sell-outs, so you are advised to make reservations or purchase your tickets online as soon as possible.
Performance Dates
Friday, February 14, 7:30 pm
Saturday, February 15, 2:00 pm
Sunday, February 16, 2:00 pm
The performances are color-coded:
White = lots of seats available
Yellow = a popular show
Red = few seats left
Black = Sold Out
Tickets are $20 for regular admission, and $17 for students and seniors.
or

or call the Calliope Box Office at 508-869-6887 for availability.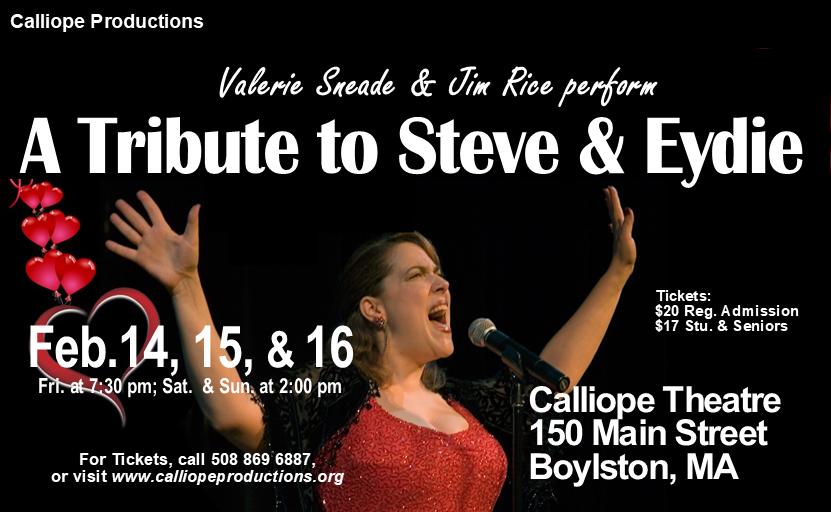 Cast
The Singer: Valerie Sneade
The Pianist: Jim Rice

---