The Taffetas
A Musical Revue by Rick Lewis and Arthur Whiteclaw
The Taffetas is a musical revue set in 1956. It spotlights four singing sisters performing on a nationally-televised program. They are convinced that Ed Sullivan is watching, and the big break they have been waiting for may be upon them! The sisters sing, dance, and banter through such numbers as I'm Sorry, Tammy, Fly Me to the Moon, and Where the Boys Are. The Taffetas will sing their way into your hearts!
Performance Dates
Thursday, May 19, 7:30 pm
Friday, May 20, 7:30 pm
Saturday, May 21, 7:30 pm
Sunday, May 22, 2:00 pm
Friday, May 27, 7:30 pm
Saturday, May 28, 7:30 pm
Sunday, May 29, 2:00 pm
The performances are color-coded:
White = lots of seats
Yellow = a popular show
Red = few seats left
Black = Sold Out
Call the Calliope Box Office at 508-869-6887 for ticket availability.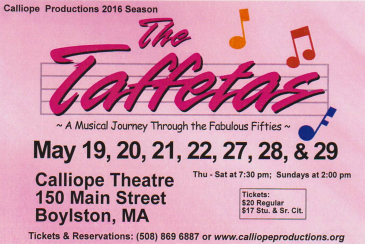 Cast & Crew
The Taffetas!
- Tracy DeBlois
- Lorraine Hruska
- Paula Jeanne Guilbault
- Christie Pearl
Director: John Leslie
Pianist/Band Leader: J. Parker Eldridge
Drums: Phil Andrews
Acoustic Bass: Jerry Maday
---