Calliope Special Events
Calliope presents a
TEEN TALENT SHOWCASE
, an evening of over 20 Vaudeville acts for the 21st century: singers, instrumentalists, bands, orators, exhibitions of physical skill -- the greatest diversity of performers of the next Calliope generation.
Admission is $5 per person. Snacks and drinks will be available for purchase. There will be one intermission.
Performance Date
Saturday, October 27, 7:00 pm
The performance is color-coded:
White = lots of seats available
Yellow = a popular show
Red = few seats left
Black = Sold Out
Call the Calliope Box Office at 508-869-6887 for ticket availability.
TEEN TALENT SHOWCASE:
Produced by the Calliope Teen Troupe
A smorgasbord of youthful entertainment that is sure to leave the audience in awe.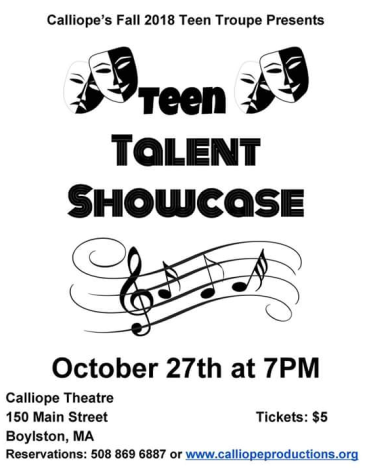 Cast
Emily Baldwin
Thomas Scalera
Hannah Bilodeau, Sarah Malone, and Alia Batista
Chris Nasuti
Grace Herdman
Kirsty O'Grady
Austin Tenczar, Noah Kunz, and Kyle Thompson
Mary Wattu
Heather Bachand
Maggie Lyerly
Kate O'Leary, Cece Jarry, and Molly Giguere
Grace Quimby
Ben Howard
Grace Stover
Cassidy Brannon and Abby Rickert
Ben Simmarano, Jake Karsina, Zach Milton, and Nicole Nelson
Nathan Spadafora
Olivia Lyerly
Caralyn Smith
Aiden Guzzetti, Hallie Kamonsky, and John McAuliffe
Emma Waterson, Chloe Bragg, and Alex Bishop
---