Seussical
A Musical by Lynn Ahrens and Stephen Flaherty
Seussical is a fantastical, magical, musical extravaganza which lovingly brings to life all of our favorite Dr. Seuss characters, including Horton the Elephant, The Cat in the Hat, Gertrude McFuzz, lazy Mayzie, and a little boy with a big imagination--Jojo. The colorful characters transport us from the Jungle of Nool to the Circus McGurkus to the invisible world of the Whos. Toe-tapping music, familiar characters and stories, and lots of action make this a family favorite!
Performance Dates
Wednesday, July 20, 7:30 pm
Thursday, July 21, 7:30 pm
Friday, July 22, 7:30 pm
Saturday, July 23, 1:00 pm
Saturday, July 23, 7:30 pm
The performances are color-coded:
White = lots of seats
Yellow = a popular show
Red = few seats left
Black = Sold Out
or

or call the Calliope Box Office at 508-869-6887 for availability.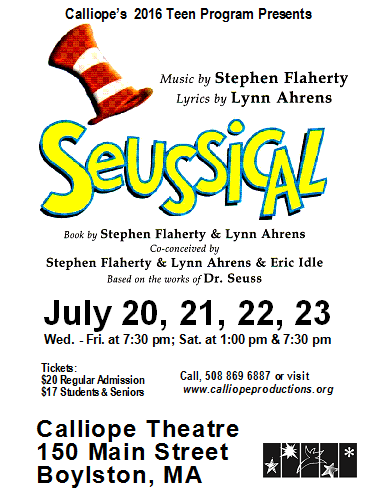 ---