Our Town
a drama classic by Thornton Wilder
Calliope celebrates the 80th anniversary of Thornton Wilder's 1938 Pulitzer Prize-winning drama which was described by Edward Albee as "the greatest American play ever written." Our Town chronicles the lives of the residents of the small town of Grover's Corners through three acts: "Daily Life," "Love and Marriage," and "Death and Eternity." Narrated by a stage manager and performed with minimal props and sets, audiences follow the Webb and Gibbs families as their children fall in love, marry, and eventually die.
Performance Dates
Thursday, March 1, 7:30 pm
Friday, March 2, 7:30 pm
Saturday, March 3, 7:30 pm
Sunday, March 4, 2:00 pm
Friday, March 9, 7:30 pm
Saturday, March 10, 7:30 pm
Sunday, March 11, 2:00 pm
The performances are color-coded:
White = lots of seats available
Yellow = a popular show
Red = few seats left
Black = Sold Out
Call the Calliope Box Office at 508-869-6887 for ticket availability.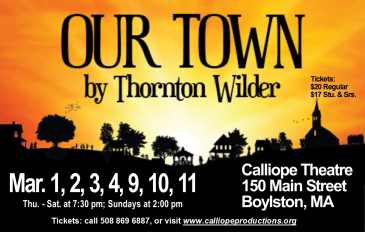 Cast
Stage Manager -- Ian Dowell
Emily Webb -- Allyson Cashin
George Gibbs -- Patrick Wilcox
Dr. Gibbs -- David Nestelbaum
Mrs. Gibbs -- Karen Josbacher
Mr. Webb -- Edward Moynihan
Mrs. Webb -- Donna Williams
Rebecca Gibbs -- Lily Ruggiere
Wally Webb -- Felix Gregory
Joe Crowell / Si Crowell -- Nathan Spadafora
Simon Stimson -- Matt Cory
Howie Newsome -- Matt Cogswell
Professor Willard / Mr. Carter -- Larry Loring
Mrs. Soames -- Janice Spada
Constable Warren -- David Vilandre
Joe Stoddard -- Doug Beller
Sam Craig / Man in Auditorium -- Kevin Briggs
---
Producer / Director -- Dave Ludt
Assistant / Stage Manager -- Doug Beller
Costumer -- Donna Reidy

---