Once Upon a Mattress
the Broadway Musical by Mary Rodgers
Calliope's 2018 Teen Summer Production is Once Upon a Mattress, the 1960 musical with music by Mary Rodgers and lyrics by Marshall Barer, that helped launch the career of Carol Burnett. It is a musical adaptation of the Hans Christian Andersen fairy tale, The Princess and the Pea. Once Upon a Mattress was nominated for the Tony Award for Best Musical in 1960, and the Tony Award for Best Revival of a Musical in 1997.
Performance Dates
Wednesday, July 18, 7:30 pm
Thursday, July 19, 7:30 pm
Friday, July 20, 7:30 pm
Saturday, July 21, 2:00 pm
Saturday, July 21, 7:30 pm
The performances are color-coded:
White = lots of seats available
Yellow = a popular show
Red = few seats left
Black = Sold Out
Call the Calliope Box Office at 508-869-6887 for ticket availability.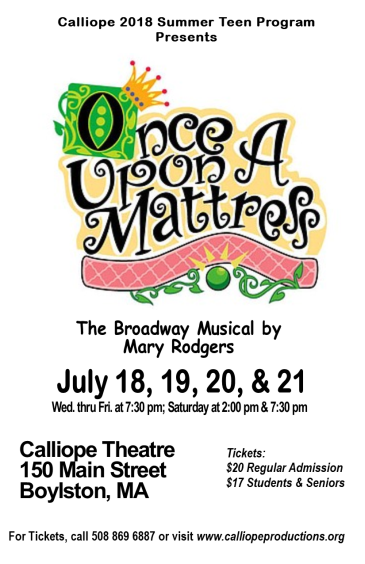 Cast
Princess Winnifred -- Heather Bachand
Lady in Waiting, Ensemble -- May Barrett
Lady Mabelle, Ensemble -- Lauren Berardi
Lady in Waiting, Wench, Ensemble -- Julia Bourque
Lady in Waiting, Nightingle, Ensemble -- Cassidy Brannon
Queen Aggravain -- Gabby Brummer
Sir Harry -- Jonathan Call
Lady Larken -- Sarah Catarius
Lady in Waiting, Ensemble -- Karina Davis
Lady in Waiting, Ensemble -- Abby Fossey
Lady Merrill, Featured Dancer, Ensemble -- Sydney Fuller
Knight, Sir Luce, Ensemble -- Frederic Gondek
Knight, Ensemble -- Josef Gondek
Prince Dauntless -- Jonny Grimes
Wizard -- Lucas Guerra
Princess #12, Lady Beatrice, Ensemble -- Kelly Johnson
Lady in Waiting, Wench, Ensemble -- Eve LeBlanc
Lady Lucille, Featured Dancer, Ensemble -- Olivia Lyerly
Minstrel -- Chris Martin
Lady in Waiting, Ensemble -- Maria Mello
Lady in Waiting, Wench, Ensemble -- Rosemary Mitchell
Lady Rowena, Ensemble -- Abby Rickert
Lady Helena, Ensemble -- Caralyn Smith
Lady Dorothy, Ensemble -- Danielle Smith
Lady in Waiting, Sir Luce's Girl, Ensemble -- Margot Sonia
Sir Studley, Ensemble -- Nathan Spadafora
King Sextimus -- Kyle Thompson
Knight, Sir Harold, Ensemble -- Andy Trahan
Jester -- Chris Van Liew
Lady in Waiting, Emily, Ensemble -- Elizabeth Van Liew
---