Night Watch
a Suspense Thriller by Lucille Fletcher
Unable to sleep at night, Elaine Wheeler restlessly paces the living-room of her Manhattan townhouse, troubled by unsettling memories and vague fears. Suddenly, she sees a dead body in the window of the building next door, and screams. Her husband investigates, only to discover that the alleged dead body has mysteriously disappeared.
Thus begins an ordeal of terror and suspense, as Elaine Wheeler tries to prove to her husband, her best friend, a psychiatrist, and to herself as well, that she is not losing her mind.
Calliope is pleased to present this production of Night Watch, a gripping suspense drama by Lucille Fletcher as the opening play for our 2022 season.
Performance Dates
Thursday, March 10, 7:30 pm
Friday, March 11, 7:30 pm
Saturday, March 12, 7:30 pm
Sunday, March 13, 2:00 pm
Friday, March 18, 7:30 pm
Saturday, March 19, 7:30 pm
Sunday, March 20, 2:00 pm
The performances are color-coded:
White = lots of seats available
Yellow = a popular show
Red = few seats left
Black = Sold Out
Tickets are $20 for regular admission, and $17 for students and seniors.
Night Watch Program (opens a new window)
Thanks to METRMag for a mysterious review. (opens a new window)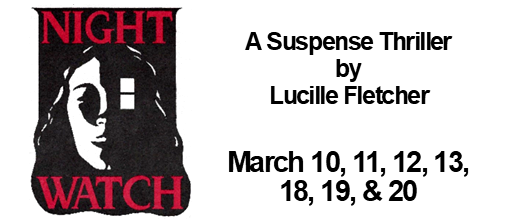 Cast
Director:
Neal Martel
Stage Manager:
Bethany Arsenault
Elaine Wheeler: Michelle England
John Wheeler: Scott Lyerly
Helga: Elvira Para
Officer Vanelli: Denise LaRoche
Curtis Appleby: Richard Zuscak
Blanche Cooke: Sonya Richards
Lieutenant Walker: David Vilandre
Dr. Tracey Lake: Krissi Forgues
Sam Hoke: Neal Martel
---