Madagascar, Jr
A DreamWorks Musical
DreamWorks' Madagascar (Jr) is a stage adaptation of the animated DreamWorks hit movie about Alex the lion and his crack-a-lackin animal friends who escape from New York's Central Park Zoo and embark on an adventurous journey to explore the world.
Performance Dates
Wednesday, August 1, 7:00 pm
Thursday, August 2, 2:00 pm
Thursday, August 2, 7:00 pm
Friday, August 3, 7:00 pm
Saturday, August 4, 2:00 pm
The performances are color-coded:
White = lots of seats available
Yellow = a popular show
Red = few seats left
Black = Sold Out
Call the Calliope Box Office at 508-869-6887 for ticket availability.
Admission is $10 per person.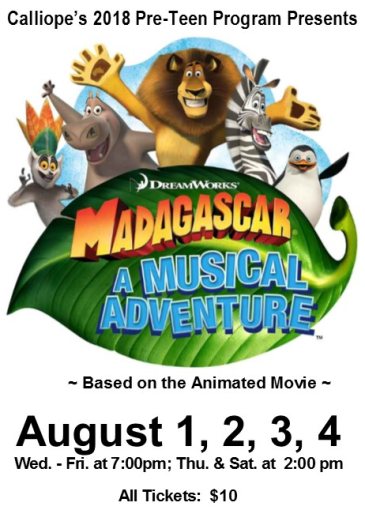 Production Staff
Director: Megan Burke
Musical Director: Matthew Kim
Costumes: Donna Reidy, Karen Josbacher
Sound: Tracy Deblois
Photographer: Karen Josbacher
Assistants / Teen Buddies:
Mary Mahoney: stage manager, prop collector and creator
Olivia Lyerly: prop creator, slide show, keeping things organized
Sydney Fuller: choreography and dance captain
Abby Rickert: lights and lots of love
Nathan Spadafora: vocals, helping a hand wherever needed
---