James and the Giant Peach, Jr
A Musical by Benj Pasek and Justin Paul
Based on one of Roald Dahl's most poignantly quirky stories, James and the Giant Peach, Jr is a brand new take on this "masterpeach" of a tale. When James is sent by his conniving aunts to chop down their old fruit tree, he discovers a magic potion that grows a tremendous peach, rolls into the ocean and launches a journey of enormous proportions. James befriends a collection of singing insects that ride the giant piece of fruit across the ocean, facing hunger, sharks and plenty of disagreements along the way.
Performance Dates
Wednesday, July 27, 7:00 pm
Thursday, July 28, 7:00 pm
Friday, July 29, 7:00 pm
Saturday, July 30, 2:00 pm
The performances are color-coded:
White = lots of seats
Yellow = a popular show
Red = few seats left
Black = Sold Out
Call the Calliope Box Office at 508-869-6887 for ticket availability.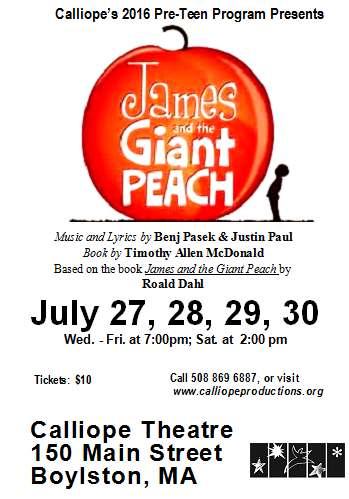 Random pictures of James and his adventures are available in our Gallery.
---