A Funny Thing Happened on the Way to the Forum
the Broadway Musical by Stephen Sondheim
Based on the plays of Plautus, this musical with a book by Burt Shevelove and Larry Gelbart, the plot concerns a young hero, named Hero, who has fallen in love with a courtesan from next door. He promises freedom to his slave, Pseudolus, in exchange for the girl. A Funny Thing is out of the ordinary in that the songs' function is not to advance the plot or to illuminate character, but rather to give the audience a vaudevillian break from the breakneck pace of the farcical plot. Includes the songs Comedy Tonight and Everybody Ought to Have a Maid.
Performance Dates
Thursday, May 19, 7:30 pm
Friday, May 20, 7:30 pm
Saturday, May 21, 7:30 pm
Sunday, May 22, 2:00 pm
Friday, May 27, 7:30 pm - canceled
Saturday, May 28, 2:00 pm - canceled
Saturday, May 28, 7:30 pm - canceled
Sunday, May 29, 2:00 pm - canceled
The performances are color-coded:
White = lots of seats available
Yellow = a popular show
Red = few seats left
Black = Sold Out
Tickets for this musical are $25 for regular admission, and $20 for students and seniors.
A Funny Thing Happened on the Way to the Forum Program (opens a new window)
Thanks to METRMag for a funny review. (opens a new window)
Pictures! Taken near or on the Way to the Forum. (opens a new window)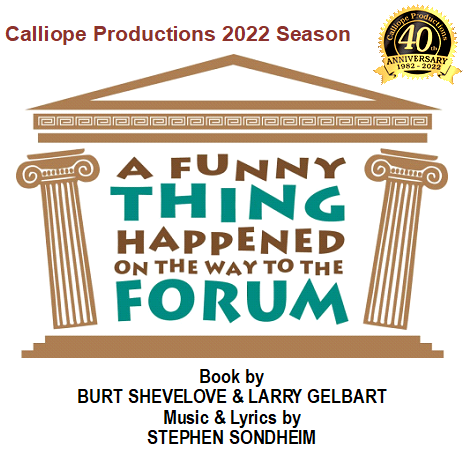 Cast
Pseudolus:
Kevin Moylan
Senex:
Chris Schmitt
Hysterium:
Michael Celularo
Domina:
Tracy Martino
Hero:
Ian Flannery
Philia:
Amanda Lanza
Miles Gloriosus:
Stephen Murray
Marcus Lycus:
Jeremy Darling
Erronius:
Al Dano
Proteans:
John Bausch, Rob Fossey, Ryan Hebert
Courtesans:
Jessica Couture, Rosie Joubert, Olivia Lyerly, Kate Moylan, Stephanie Murin
Director: Dave Ludt
Music Director: John Leslie
Choreographer: Jacob Sewell
---