Curtains
The Musical
Curtains is the Broadway musical mystery comedy hit by the song writing team of Kander and Ebb that recived 8 Tony nominations in 2007. The musical is set in Boston's Colonial Theater in 1959, and the plot involves the mysterious death of the leading lady in a Broadway-bound musical, which causes the entire cast and crew to become murder suspects. Filled with memorable tunes, a witty and hilarious script, and intriguing characters, Curtains is a delight for performers and audiences.
Performance Dates
Wednesday, July 12, 7:30 pm
Thursday, July 13, 7:30 pm
Friday, July 14, 7:30 pm
Saturday, July 15, 2:00 pm
Saturday, July 15, 7:30 pm
The performances are color-coded:
White = lots of seats available
Yellow = a popular show
Red = few seats left
Black = Sold Out
Tickets are $20 for regular admission, and $17 for students and seniors.
This time for sure: without a Program you won't know what's going on. (opens a new window, mind the curtain)
See for whom the Curtains rise (in the picture book). (opens a new window)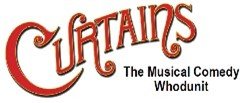 Cast
---