Bunkered
a Comedy by Lynn Brittney
On the West Coast of Britain, a Naval Intelligence cold war bunker is vigilantly manned by four naval personnel nearing retirement. However, as far as the Royal Navy is concerned, the bunker had been decommissioned in 1991, and the staff made redundant. Yet, somehow, the personnel continue to receive regular pay checks and still blithely remain on the job so that they can eventually collect their full retirement pensions.
When one of them decides to bring the equipment up to full working order before he retires, alarms are set off in the Admiralty, and panic and farcical mayhem ensue, as the Marines are called into action to storm the bunker. Calliope Productions is delighted to present an American premiere production of this hilarious British comedy.
Performance Dates
Thursday, October 6, 7:30 pm
Friday, October 7, 7:30 pm
Saturday, October 8, 7:30 pm
Sunday, October 9, 2:00 pm
Friday, October 14, 7:30 pm
Saturday, October 15, 7:30 pm
Sunday, October 16, 2:00 pm
The performances are color-coded:
White = lots of seats available
Yellow = a popular show
Red = few seats left
Black = Sold Out
Tickets are $20 for regular admission, and $17 for students and seniors.
Bunkered, the Program (opens a new window)
Thanks to METRMag for a deep Review. (opens a new window)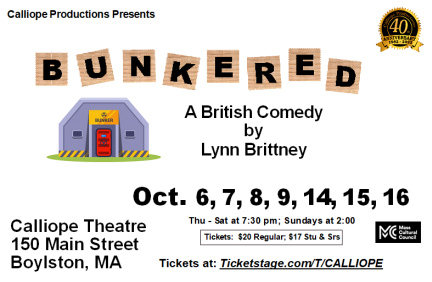 Cast
John Bausch
Gary M. Kendall
Joan Stewart
Amy Newberg
Ginny Hilli
Andy DeSisto
Al Dano
Karen Josbacher
---