Titanic
a Musical by Peter Stone and Maury Yeston
Titanic, the exciting Broadway block-buster production with music and lyrics by Maury Yeston and a book by Peter Stone, garnered five Tony Awards - including the award for Best Musical in 1997. Calliope's production of this show is a 2012 ensemble version that uses 20 performers to portray all 50 characters, with an abstract set design, projections of the ship and its passengers, and orchestrations designed to make the score sound as though it is being played by the ship's band.
Performance Dates
Thursday, May 17, 7:30 pm
Friday, May 18, 7:30 pm
Saturday, May 19, 7:30 pm
Sunday, May 20, 2:00 pm
Friday, May 25, 7:30 pm
Saturday, May 26, 7:30 pm
Sunday, May 27, 2:00 pm
The performances are color-coded:
White = lots of seats available
Yellow = a popular show
Red = few seats left
Black = Sold Out
or

or call the Calliope Box Office at 508-869-6887 for availability.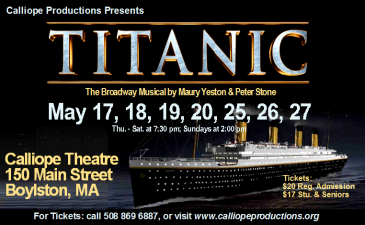 Cast
John Bausch
Mike Casey
Jim Catapano
Heidi Choe
Bill Condon
Jack Cormier
Jason Denton
Autumn DeSisto
Marcelle Durrenberger
Mark Durrenberger
Erik Gladwin
Miriam Grey
Chris Harris
Linnea Lyerly
John McElroy
Patrice Metcalf
Connor Moynihan
Jacob Peters
Steve Pinner
Michelle Schmidtt
Carolyn Schwartz
Todd Vickstrom
---
Producer/Director: Dave Ludt
Musical Director: John Leslie
Choreographer: Karen White
Costumer: Donna Reidy
---