First Things First
A comedy by Derek Benfield
George has been Pete's best man at both of his weddings. Pete, now happily married to Sarah, is shocked when he learns that his first wife, Jessica, was not killed in a climbing accident, as they had thought, but is alive and well and keen to resume her life with Pete. This leads to a series of hilarious situations as George helps Pete try to find a way out of his untoward predicament without upsetting either of Pete's wives or his second wife's domineering mother.
Towards the end of the play, when the audience believes that all the wrinkles have been ironed out, an unexpected occurrence throws everything into disarray again.
Performance Dates
Thursday, October 12, 7:30 pm
Friday, October 13, 7:30 pm
Saturday, October 14, 7:30 pm
Sunday, October 15, 2:00 pm
Friday, October 20, 7:30 pm
Saturday, October 21, 7:30 pm
Sunday, October 22, 2:00 pm
The performances are color-coded:
White = lots of seats available
Yellow = a popular show
Red = few seats left
Black = Sold Out
Thanks to the Worcester Telegram for a hilarious review. (opens a new window)
or

or call the Calliope Box Office at 508-869-6887 for availability.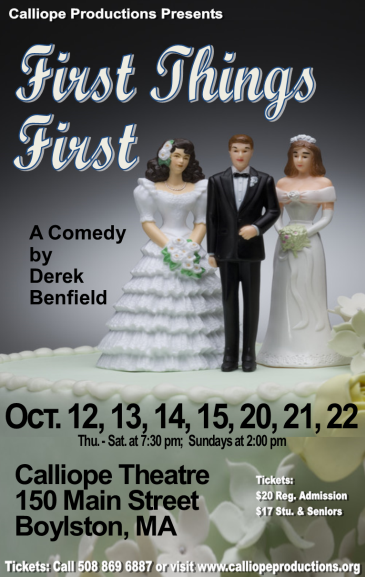 Cast
Sarah -- Stacy Kernweis
Pete -- Anthony Huntington
Margot -- Janice Spada
George -- Al Dano
Jessica -- Rachael Robiner
Alan -- Andrew Harrington

---
Director -- Dave Ludt
Assistant Director -- Larry Loring
Stage Manager -- Doug Beller

---